The Ideas Lab
The ideas Lab is a Contemporary Makers Collective and a creative and innovative work space in one. The collective is drawn from the fields of Art, Photography and the Construction industry. Their main aim is to promote the use of recycled materials as a viable and functional alternative to newly manufactured items.
Their Facilities include a fully functioning workshop where they manufacture bespoke items as according to the commissions received. From turning a few sheets of MDF into a fully functioning DJ booth or repurposing a bass drum into a mobile disco light, they have the tools, facilities, experience and talent to build the most amazing high quality creations.
Where possible, the materials used to construct the structures came from waste materials either sourced from skips or building jobs. For example, one of the structures they created was made from trampoline frames clad with natural straw. Given its circular shape and wave shaped roof pitch, the result was affectionately titled the 'coco hut'.
When A Tree Falls…
How our products are made
The Elm River Table. Brighton has often been struck by heavy storms, but the one that lingers in living memory for many people is the Great Hurricane of 1987. 25 years ago, on the night between 15 and 16 October, freakishly strong winds raged across the south east of England. Numerous trees in Brighton & Hove were uprooted, and many buildings were damaged.
The lumber used to create the piece came from sections of felled trees caused by that same hurricane 25 years ago. The top is comprised of two pieces of living edge elm cut from one plank.

Commissions
The Ideas Lab are often commissioned to produce a broad variety of things for clients all over Brighton and Hove. Most of the time they use purpose bought materials but try whenever possible to either incorporate or use entirely recycled materials. If you need something made for your house, club, bar or shop they can surely help… in their own unique style of course.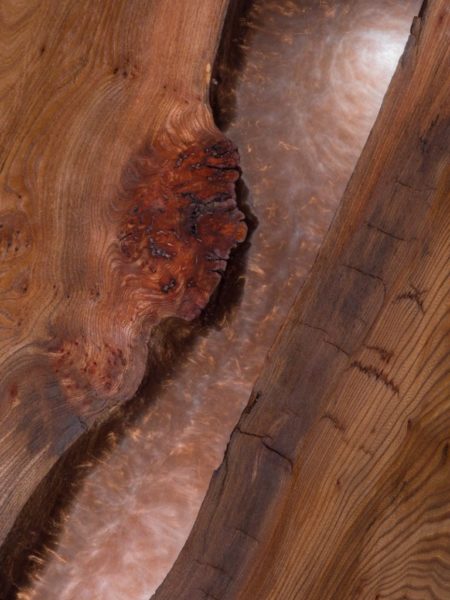 Architrive Mirror
This piece was created using recycled materials, including the mirror glass. All parts came from various skips and recycling facilities around Sussex.