Featured Artist – Iva Troj
Award-winning contemporary artist Iva Troj creates fine art pieces which seamlessly merge Renaissance aesthetics and techniques with postmodern praxis. Her intensely detailed images achieve astonishing tricks of light and shade, as practiced by the great masters while incorporating dreamlike scenes which challenge cultural norms.
Featured Photographer -Dave Shrimpton
Dave Shrimpton is a portrait, people and street photographer who uses vintage and classic cameras from 1890-1970. He works in large and medium format film and also uses the 1851 wet plate collodion process to capture images on glass, metal and Perspex.

Xbox Halo Masterpiece
Xbox UK hired Iva Troj to paint an epic Renaissance style painting [6×3 metres] for the 20th anniversary and launch of Halo Infinite in Dec 2021. The piece was completed in just over a month and received 3 Cannes Lions nominations for Cannes Lions 22.
Book Covers
Most recent covers – paintings for the book 'Hello Troj' and for the cover of 'Rebecca' – 1930's classic by Daphne du MaurierTechnique: pencil, ink, acrylics and glaze on paper
Portrait Illustrations
Portraits of various figures from 'Rebecca' – by Daphne du Maurier as part of the collection for the book we did for SunTap Publishing.

Transparent oil technique
Transparent oil technique is mostly known as the Flemish method of layering thin veneers of paint between layers of varnish. Iva Troj's paintings are often created using this technique although she has invented her own unique variations.
Acrylic on paper
Using acrylic paint on paper can be a bit tricky but the textures and blends one can achieve with good quality acrylics applied with dry brushes is quite striking. Have a look at some of the examples from 'Rebecca'
Pencil and Graphite
Hatching (shading by drawing parallels lines) is a traditional drawing technique used by most professional artists. It predates Renaissance and is taught in most art schools. It is also the technique mostly used by our artists.
Pastel Drawings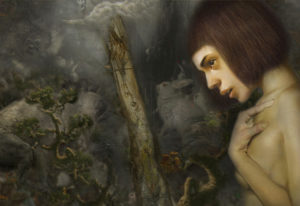 The pastel drawings in our collection are mostly created using pencil pastels but also chalk pens and graphite dust. Layers are created using blending techniques and spray varnish.
Mysa Collaboration
Iva Troj and Ecuadorian artist Mysa Stark did a collaboration in 2016 which resulted in a small collection of drawings including the above "To All The Bad People".
Graphite and Chalk
This technique is used by almost everyone in our small collective, from Tash to Iva and Mysa Stark. It is also how the first layers of paintings created using transparent oil technique are painted.
TV ads – Channel4
Paintings for Taskmaster series 11
Technique: pencil, acrylics, digital.
Iva Troj created 3 highly detailed paintings for the Taskmaster 11 series trailer which was aired in a nationwide campaign in 2020 [see trailer below]. The paintings were created from pencil and paint sketches that were later scanned and developed using textures and custom paint brushes [created by Iva] in Adobe Photoshop. Iva is highly skilled in both traditional and digital techniques which allows her to move freely between various styles, genres and environments. In the case of Taskmaster 11, she was tasked with the creation of works in the style of old masters such as Raphael and Botticelli [example to the left "The Birth Of Venus"].
Colour Pencil Drawings
'Element' – Large Format Drawing
This large format colour pencil drawing was initially created as a cover illustration for Iva Troj's 2017 catalogue. The first draft was a large double layer work created on two separate pieces of paper [a transparent foil sheet on top of a fine art paper sheet] to create the illusion of double exposure. The work was later recreated on a single sheet of tinted Lito paper.
Drawings
'Sibling' – larger format pencil drawing
Technique: Drawing – pencil, graphite and charcoal dust.
This original drawing was created as the foundation for a new painting series titled "The Siblings". The series will feature drawings and paintings based on the illusion of "double exposure".
Graphic Novels & Comic Book Illustrations
Origami Wine – Graphic Novel
Technique: Drawing – pencil, graphite and charcoal dust.
Although Origami Wine is about a 13 year-old Romani girl who kills her trafficker and embarks on a dangerous journey through the Balkans, it is not a sad novel. Absurdity, unpredictability and love make for a bundle of stories that may sometimes feel like fantasy because of how little the world knows about the Roma, but are indeed real and deeply rooted in the history of the region.
This graphic novel by Iva Troj is inspired by real places and true events. The illustrations in the book are highly detailed and meticulously drawn / painted.
Contact
For enquiries and updates on new drops, events and new editions, please fill the form in the contact page or email us on ivatroj.management@gmail.com.
Thank you!
Follow Us
Want to keep up with our latest adventures? Follow 22blocks, Iva Troj Ltd and our partner Dave Shrimpton on Facebook , Twitter or Instagram.
Review Us
Want to share your experience, good or bad? We are welcome all feedback. Please contact us today.
Talk to Us
Please message us by filling out the form under the contact page or message us on any of our social media channel.